The Best Door Lock Change Locksmith Service in Dallas.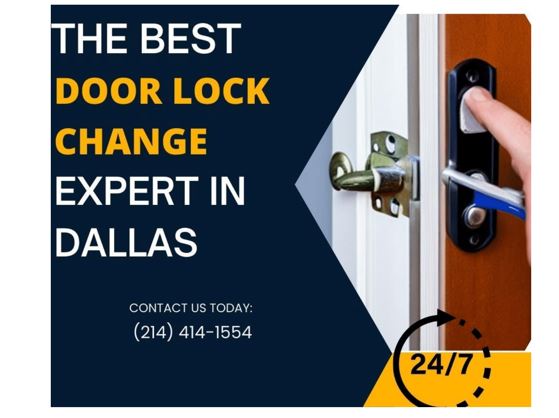 You've been locked out of your apartment and don't know how to get back in. You can't afford a new lock, and you're still determining whether you should break in and attempt to repair the lock later. Dallas Locksmith is a reputable company that provides door lock replacement services, and we are available 24-7 to attend to your needs. Call us at (214) 414-1554 right away.
The safety and security of your home are of the utmost importance to you as a homeowner. Changing the locks on your doors is one of the most effective ways to improve the security of your home. Changing your door locks is essential in ensuring your home's security and safety. Whether you have recently moved into a new home, have had a break-in, or want to upgrade your current locks, hiring a reputable and experienced locksmith in Dallas is critical.
We at Dallas Locksmith Master understand how important it is to feel safe and secure in your home. As a result, we provide high-quality door lock change services to Dallas residents. Our team of experienced and certified professionals will change your door locks quickly, giving you the peace of mind that comes with knowing your home is secure.
Why choose us?
We understand that selecting a locksmith can be a difficult task. There are numerous factors to consider, including price, reputation, and expertise. We believe that we are the preferred place for your door lock change service, and here are the main reasons why:
Expertise:
Our team of locksmiths has years of experience in the field and is thoroughly trained and certified to handle all types of door lock change projects. We have the knowledge and skills to assess the security of your current door locks and recommend the best options for upgrading or replacing them.
Quality products:
We only use reputable brands' best door locks. We understand that your security depends on the strength and reliability of your door locks, so we only use the best to ensure your peace of mind.
Quick service:
We understand that time is of the essence when it comes to door lock changes. Whether you're locked out of your home or need to change the locks for security reasons, we will respond promptly to your call and get the job done quickly and efficiently.
Affordable prices:
We offer competitive prices for our door lock change services, and we will provide you with a detailed quote before beginning any work. We also offer discounts for senior citizens and military personnel.
24/7 availability:
Our locksmiths are available 24/7 to handle any emergency lock-related issues. We understand that lockouts and security breaches can happen anytime, and we are here to help you get back to your routine as soon as possible.
Professionalism:
Our locksmiths are trained to provide top-notch customer service. We will treat you with respect and professionalism from start to finish, and we will go above and beyond to ensure that you are satisfied with our work.
Comprehensive services:
In addition to door lock changes, we offer a range of other locksmith services, including lock installations, repairs, rekeying, and more. We can handle any lock-related issue you may have and will work with you to find the best solution for your needs.
Trusted reputation:
We have been serving the Dallas community for many years and have built a reputation for providing excellent service. We have a strong presence in the community and have received numerous positive reviews from satisfied customers.
Types of door locks available for change in Dayton, OH
A list of some common types of door locks that are available for change by a door lock change service in Dallas:
Deadbolts: Deadbolts are a type of lock that uses a bolt to secure the door. They are typically used in conjunction with a knob or lever handle lock and provide an added layer of security.
Mortise locks: Mortise locks are a type of lock set into a pocket or mortise in the door. They are more secure than knob and lever handle locks because they have a larger surface area secured to the door.
Keyless entry locks: Keyless entry locks allow the user to unlock the door using a smartphone app or a key fob. They are convenient because they don't require a physical key.
Smart locks: Smart locks are a type of keyless entry lock that can be controlled and monitored using a smartphone app. They allow the user to lock and unlock the door remotely, set up temporary access codes for guests, and receive notifications when the door is locked or unlocked.
Padlocks: Padlocks are portable locks that can secure gates, sheds, and other outdoor structures. They are typically made of metal and can be opened with a key or a combination.
Electronic locks: Electronic locks use a code or electronic key card to unlock the door. They are often used in commercial buildings and are convenient because they don't require a key.
Biometric locks: They use a person's unique physical characteristics, such as fingerprint or iris scan, to unlock the door. They are more secure than electronic locks because they cannot be easily replicated.
Cabinet locks are used to secure drawers, cabinets, and other storage spaces. They are available in various styles, including keyed, combination, and electronic locks.
Knob locks are the most common type of door locks and are typically found on residential doors. They have a round knob that is turned to lock and unlock the door.
Lever handle locks: These locks are similar to knob locks but have a lever handle instead of a knob. They are often preferred in commercial buildings because they are easier to open, especially for people with disabilities.
Conclusion
Using our door lock change service in Dallas, you will gain access to a team of expert locksmiths, high-quality products, quick service, low prices, 24/7 availability, professionalism, comprehensive benefits, and a reputable reputation. We are confident that we can meet and exceed your lock-related needs. Contact us today to learn more about our services and to set up a door lock change appointment.