Locksmith Near Me in Dallas, TX
Locking yourself out of your car, workplace, or house is annoying. You might try picking the lock for hours or hire a locksmith. You can only be sure they will arrive after that, though. Your lockout issues might be resolved by contacting Dallas Locksmith Master. We have specialists and a 24-hour locksmith service available every day of the week. Call us at (214) 414-2102 right now.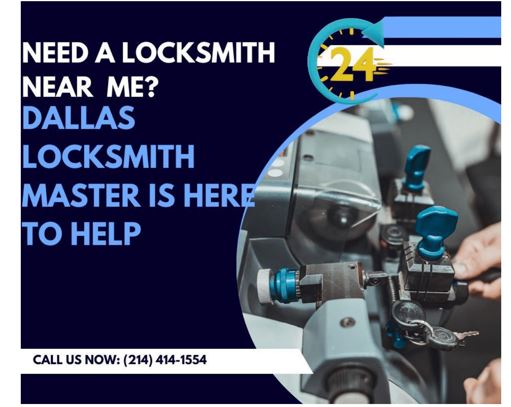 Locksmith services are costly. Finding a reliable locksmith is challenging because they frequently demand excessive fees and seldom arrive on time. You need a locksmith immediately if you need one, and you might need help getting into your house, workplace, or car. The leading locksmith in town is Dallas Locksmith Master.
You may spend more money on a lousy locksmith than a new door. It's challenging to get an appointment because locksmiths are in high demand. Additionally, the service must be paid for upfront. Any locksmith needs you may be met immediately by our locksmiths, always on call. We provide quick, trustworthy, and reasonably priced locksmith services.
The specific services offered by Dallas Locksmith Master typically include the following:
· Residential services include lock installation, repair, and replacement for residential properties, such as homes and apartments. It may also include services for garage doors, mailbox locks, and window locks.
· Commercial services: These services are similar to residential services but are tailored to the needs of businesses and commercial properties. It may include lock installation, repair, and replacement for office buildings, storefronts, and other commercial spaces.
· Automotive services: These services are specifically designed for vehicles, including cars, trucks, and motorcycles. It may include key-cutting and duplication services, ignition repair, and lockout assistance.
· Emergency services are available 24/7 for urgent situations, such as lockouts or broken locks. It may include services such as emergency lock repair and replacement and emergency access to vehicles and buildings.
· Security systems: In addition to traditional lock services, many locksmith companies offer security systems, such as surveillance cameras, alarms, and access control systems. It may include installation, repair, and maintenance of these systems.
Importance of having us as your reliable locksmith
Finding a reliable locksmith is essential for several reasons:
1. Security: We can provide high-quality lock and security systems to protect your home or business, and they can help prevent burglaries and other security breaches.
2. Convenience: If you get locked out of your home or car, we can quickly and efficiently help you get back in. It can save you time and frustration.
3. Expertise: We have the skills and knowledge to handle many lock and security issues. They can provide expert advice and solutions for any situation.
4. Trustworthiness: We are trustworthy and can be relied upon to handle your security needs professionally and ethically.
5. Peace of mind: Knowing that you have a reliable locksmith to call in case of an emergency can help you feel secure in your home or business.
The convenience of finding a locksmith near you
Finding a locksmith nearby can be incredibly practical, particularly if you want emergency assistance. People in Dallas and the surrounding areas can get locksmith services from Dallas Locksmith Master. We can help you swiftly and efficiently without driving far, saving you time, money, and hassle. Working with a Dallas Locksmith Master can also provide peace of mind because you can quickly look up information about us online and acquire referrals from friends and family. Get in touch with us immediately for a quick and affordable locksmith service.
Services offered by Dallas Locksmith Master
We are a professional who provides various services related to locks, keys, and security systems. Some of the services that may offer include:
1. Lock installation and repair: We can install new locks on doors, windows, and other home or business areas, and we can also repair damaged or malfunctioning locks.
2. Key duplication and replacement: We make copies of keys for individuals, businesses, or rental properties. We can also create new keys if the original is lost or damaged.
3. Emergency lockout services: If you are locked out of your home, car, or business, we can help you gain access to your property
4. Security assessments and upgrades: We can assess the security of a property and recommend upgrades or additional measures to improve safety. This may include installing deadbolts, adding security cameras, or installing a security system.
5. Automotive services: We can also provide services for car owners, such as unlocking car doors, making new car keys, and repairing ignition systems.
Considering factors such as affordability, expertise, and convenience, here are some key points that make us the best:
1. Affordability: With Dallas Locksmith Master, you get a fair and reasonable price compared to other locksmiths in Dallas.
2. Expertise: Dallas Locksmith Master has the necessary skills, knowledge, and experience to handle lock-related needs. We have certifications, licenses, and years of experience to ensure your locksmith situation is handled efficiently.
3. Convenience: Dallas Locksmith Master offers flexible hours to ensure we can come to your aid promptly.
4. Reputation: Choosing a locksmith with a good reputation in the community is essential. We have a great online and offline reputation with our excellent customer service, ensuring we give you the best locksmith service.
5. Services offered: Dallas Locksmith Master provides various services, including residential, commercial, and automotive lock services, to ensure that we can handle any lock-related situation.
Why Choose Us?
We are a team of experienced, certified locksmiths in Dallas. We have been in business for years and have served customers from all walks of life. Our company has a long history of trust and satisfaction from our clients, which we maintain by providing quality service at a reasonable price.
You never know when a crisis will strike. That's why we're available every day of the week, 24 hours a day, 7days a week, to provide emergency locksmith services to all our customers. We offer professional and prompt service at the best prices in town.
Conclusion
Finding a reliable and trustworthy locksmith is essential for several reasons. Dallas Locksmith Master provides various services, including making new keys, repairing or replacing locks, and providing security advice. We can save you time and stress in a lockout or other emergency. Additionally, as a reputable locksmith, we have the skills and knowledge to properly handle any lock-related issues you may have, ensuring the security of your home or business. Contact us today at (214) 414-1554 if you are looking for the best locksmith near you in Dallas.